Graduate Bootcamper Julia Crawford Embraces new Challenges
Posted on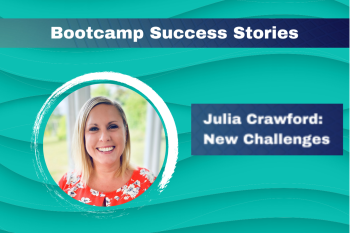 Julia is a Graduate from my Leap into HR Consulting Bootcamp. She has worked in a number of industries but for the last 14 years she has worked in the public sector. As well as being an HR consultant, she currently still works part time as head of HR for an HR shared service.

I asked Julia ....
Why did you decide to move into consulting?
I have been within the same sector for a long time as it has been a fantastic opportunity to grow my career whilst being flexible enough to manage family life as well. However, I felt like I needed a new challenge and I have always wanted to work for myself, so I thought why not. I therefore negotiated a reduction in my hours so I could dip my toe into consultancy.
What transferable skills did you identify would be useful in your new role?
I'm used to managing clients in a pragmatic and straight-talking way so I think those skills will definitely be transferable. I'm also an experienced manager so I know that will also help me look at things from a non-HR point of view.
4. What went well during your transition?
I am so proud of myself for building my own website. It was a real labour of love, but I'm pleased that I did it because it's mine.
5. What role did the bootcamp play in your transition?
The bootcamp involved a lot of soul searching and made me drill down on who my ideal client is and what I love doing. It gave me the confidence to go for it plus lots of hints and tips to make that transition a much easier process.
6. If you had your time again, would you do anything differently? If yes, what would you do differently?
would set aside some money for help setting up some of the systems to make life a bit easier. Whilst I have managed it, Mailchimp is the bane of my life but could be a great tool if set up right. I think I also completely underestimated the amount of time needed to grow my presence on social media.
I have spent the last six weeks writing social media content which can be quite stressful at times. I also have struggled with not having instant success. I know that sounds crazy and intellectually I know I will not start to build my client base for 3–4 months (this is also what I have planned for in my sales forecasting), however I have found it hard getting my head around not having a long list of clients already.

7. What are your 5 top tips for someone who is currently working in a full-time employed role and wants to move into self-employed, as you have?

1. Save a healthy pot of money or volunteer for redundancy if the opportunity arises. Or the softer approach would be to reduce your hours so you can start to build your business. This is one of the best things about my approach because I can enjoy the setting up of my business without the added pressure of paying the bills.

2. Be realistic about what your skills are. I am rubbish at admin so I always knew that I would need a virtual assistant at some point. Whilst I'm not in a position at the moment to pay someone, I am instead having 121s with some VAs to start building the relationships.
3. Try and build a network of HR consultants around you but don't compare yourself to others. This is really hard not to do but there is plenty of work out there and they aren't your competition. Instead see them as a valuable support network to give advice and feedback and at times keep you sane!!
4. Try and work out what type of consultant you want to be and who you want to work with. This is important so you focus your energies on that ideal client.
5. Be prepared to put your consultant hat on and step into this new role. Before I started the bootcamp, I would have always described myself as quite a private person. I didn't post a lot on social media and hated the idea of networking. Once I had got myself into this new mindset, I made 500 new connections on LinkedIn and have even posted videos of myself. As for networking, I love it. I am enjoying meeting new people and talking to them about their businesses but also telling them about me. It's really scary but I'm loving it. People Pillar Ltd People Pillar provides support to start-ups looking to grow their business and to established SMEs who are looking to create a place that people want to work and that will enable people to perform at their best.