9+ hours of business coaching is just one advantage to joining my Virtual Bootcamp. Here are the others:
Posted on
How many professional learning events have you attended that just didn't quite match up to what you were sold?
When you're trying to improve your future, this is the most disheartening thing that can happen.
That's why my HR Consultants Virtual Bootcamp packs in 9+ hours of business coaching and 174 pages of quality workbook material. And that's just the beginning.
Here are some of the others: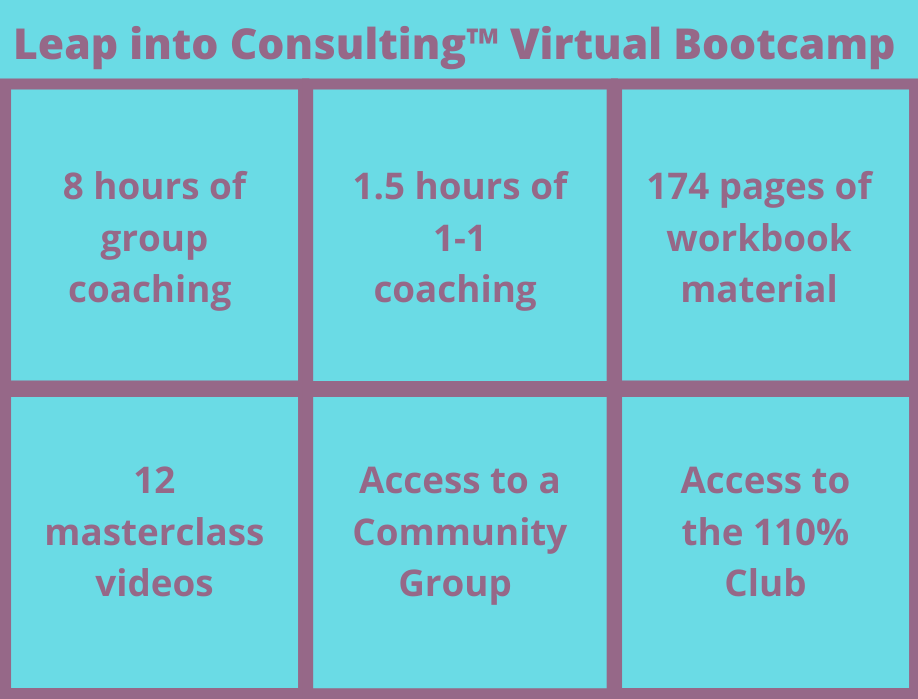 So you want to start or strengthen your HR Consulting career? You're in the right place.
My HR Consultants Virtual Bootcamp is practical, packed with value, and proven to work.
Using my learnings, insights, knowledge and experience from 25+ years as a highly successful consultant, I've packed years' of experience into a transformational fast-track programme: allowing you to learn the tricks of the trade in just six weeks.
About those numbers:
When I say I mean business, I mean business. In this course you'll benefit from:
A community group with daily tips & feedback
8 hours of group coaching
1.5 hours of 1-1 coaching
174 pages of workbook material
12 masterclass videos
Supportive Community Group

This is an in-depth online course, there's no glossing over things here. It teaches practical and productive HR Consultant methodology to help you win more clients.
Think of it this way: this six week course is comparable to learning at a College or University but with one huge benefit - the lack of four walls allows us to keep the price low.
The money you invest can often be made back in just one extra day of consulting work - something our graduates find happens to them, time and time again.
This 6 week HR Consultants Bootcamp will help you get where you need to be professionally in weeks, not months or years.
To find out more from our boot campers - take a look at our independent reviews.