Celebrating the first anniversary of 'Leap into HR Consulting: How to Move Successfully from Corporate to Consulting' book
Posted on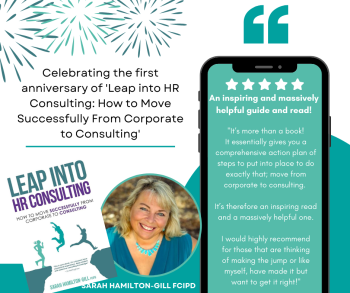 When I decided to self-publish my book 'Leap into HR Consulting: How to Move Successfully from Corporate to Consulting' just a year ago on 5th November 2020 I really hoped it would be favourably received, as it truly came from my heart. I had been drawn to writing it so that could help others follow their dreams and transform from being an employee to having their own consulting business.
I could hardly believe it when it soon went to Number 1 on the Amazon Business Consulting Book List, where it continues even a year later to dip in and out of the hot seat. To top it off, it was then announced as a finalist in the Most Inspirational HR Business Book in the Book Awards 2021.
I took the leap from working in the corporate field to set up my own HR consulting business when I decided I wanted to start a family. However, I found myself as a single mum of two small boys two years later. Juggling being a mum to them, whilst coping with school commitments such as school plays, or sports days, whilst working in corporate HR, just didn't work for us as a family. I needed more flexibility and working for myself, albeit daunting, with no guaranteed income, made perfect sense. My boys are now both grown up, but I would like to think that the commitment I made to them early on has made them the amazing men they are today.
I still remember the reaction from my parents when I told them I was going to give up my guaranteed income job, to enter the world of being self-employed, but I still believe it was the best decision I have ever taken. I wanted to write the book to encourage and inspire others to do the same and that it was possible. In the book, I share tips and tricks and talk about what I like to call my 'golden nuggets'.
Of course, there is a brutal reality as well and it's not always plain sailing. I'm not afraid to talk about the lows as well as the highs, because that's what makes us stronger, and gives us the determination to pick ourselves up and more determined to succeed.
To date over 600 people have read my book. The reviews and comments I receive are always heartening and to hear that I have inspired others, given useful tips and tricks, and encouraged others to take the leap into having their own successful HR consulting business is priceless. There really is no feeling like it.
As an anniversary special, until the end of November 2021 my book is available on Kindle Unlimited and free to download for all Kindle Unlimited members, a saving of £7.99. Amazon Prime members can also download it free of charge during a 2 month's free membership special offer.
Although my book is aimed at HR consultants, from talking to others who have read the book based in other fields I have been told that my advice, wisdom, and experience invaluable too.
You will soon be able to listen to my book too, as I will be narrating it for Audible and my second book will be released in late 2022.