Leap into HR Consulting book: from Corporate to Consulting
Posted on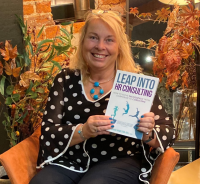 The book is shortlisted as a finalist of Best Business Book 2021 in the HR & Management category and is one of the six most inspirational HR and Management books for 2021, as nominated by HR Zone.
Sarah is also nominated as a NAT West Inspirational Woman of 2021 for the work she does helping people create their own businesses.
In 2020 Sarah helped launch over 50 consultancies during the pandemic and coached hundreds of people to pivot their careers and businesses. She is passionate about supporting others to be successful.

Her Leap into HR Consulting® Virtual Bootcamps have fast tracked the success of many HR professionals.

There are two sides to Sarah Hamilton-Gill FCIPD, a well-known entrepreneur, executive coach, public speaker, trainer, and HR consultant: the serious businesswoman and then the life-loving free spirit. The business side is one brimming with accolades, and they started early.

At 24 Sarah was the youngest HR manager to support a Sainsbury's new store opening, and she continued to work with big names including Owen Owen, Dorothy Perkins, and Foster Menswear.

In 1994 Sarah swapped the corporate life of an HR business partner for the freedom of being an HR consultant Sarah has worked with hundreds of organisations of all shapes and sizes over the past 26 years. She is an astute businesswoman and has a flare for innovation and understands how businesses tick – an essential quality when working with managing directors and CEOs. Sarah became a Virgin Start-Up Mentor for new businesses in Hampshire in 2015 and is available to support a range of entrepreneurs in their first year.

Achievements include rolling out award-winning programmes at BT, Morrison Utility Services and BCHA among others, as well as receiving many HR and business awards. In 2018 she was a finalist for the National CIPD Awards in the UK for Best HR Consultancy.

In 2020 she was the award winner of HR Consultancy of the Year 2020, awarded by the Business and Industry Today publication in the UK. She is also a finalist for the Reinvention Award 2020, based on successfully pivoting her business twice in the last 18 months.
Living the Dream

The free spirit in Sarah also loves to soak up the sun in her spiritual home, Corfu. She is very happy behind the lens of a camera capturing nature through the seasons, and just last year became resident photographer for a local travel company in Corfu, taking photos, and making memories for other guests.

Other hobbies include mainly water sports. Her claim to fame was playing underwater hockey for the England ladies' team against France and winning.

Sarah now has two grown-up sons having juggled growing her business as well as being a mother.

Sarah has found her peace and tranquillity in life, and this means that if you contact her on a Friday she may be on a boat or at the top of a mountain and unable to answer.

But come Monday morning, rest assured that Sarah will be on hand to help you work towards and build your dreams. The book can be purchased on Amazon and all good book stores online and instore.

We also have a special edition signed colour copy which you can buy directly:

Buy a special edition book